[Review] The Flash 1x18/19 - All-Star Team Up/Who Is Harrison Wells?
http://www.loggado.com/2015/04/review-flash-1x1819-all-star-team-upwho.html
Crossovers infinitos.
No primeiro episódio dessa dobradinha de crossovers, The Flash conseguiu surpreender e decepcionar. Surpreender com a vilã do episódio, e decepcionar com o roteiro sem sal e levemente fan service.
Apesar de Felicity e Ray estarem em Central City, dessa vez para pedir ajuda com o traje do Átomo, o episódio não conseguiu ser empolgante o bastante talvez por ter trabalhado vários aspectos, e de maneira superficial. Tivemos pouco de Ray, uma execução original mas pouco trabalhada da Bug-Eyed Bandit e um pouco de desenvolvimento na trama do Dr. Wells.
A presença do Átomo em Central City não foi tão atraente. Para um episódio que foi tanto divulgado, achei que merecia mais. Sua presença talvez tenha valido a pena pela conversa sobre sexo entre Felicity e Ray com o pessoal do STAR Labs. Mas, tirando isso, foi só mais um surto para o Cisco.
Já a surpresa foi a descoberta que Bertram Larvan. O Bug-Eyed Bandit é, na série, Brie Larvan. A decisão de mudar o gênero da personagem foi muito bem recebida e Emily Kinney (a Beth em The Walking Dead) conseguiu representar muito bem. Tirando essa mudança, a personagem na série foi exatamente o que é nos quadrinhos: uma especialista em robótica que criou insetos. Porém, fiquei esperando bastante coisa dela e a única ameaça que ela representou para Barry foi logo resolvida com um desfibrilador na roupa do Flash (uma saída bem aleatória, na verdade). Logo, achei que Brie poderia ter sido mais aproveitada, principalmente por ser originalmente uma vilã do Átomo.
Tirando tudo isso, o episódio contou com alguns pequenos pontos interessantes como o declínio da relação entre Eddie e Iris e Cisco e Caitlin descobrindo a verdadeira identidade de Wells. No geral, All-Star Team Up me decepcionou e, de fato, entrou para o rol dos piores da temporada.
1x19 - Who Is Harrison Wells?
Agora com crossover em Starling City, Who is Harrison Wells? foi muito mais animador do que o episódio anterior. Focado em um meta-humano bastante interessante, o episódio não se prendeu em interligar as duas séries e desenvolveu uma trama principal muito mais agradável de se assistir.
Com o vilão principal sendo o Homem Comum, foi muito interessante ver todos os atores se passando por ele. A trama de Eddie, Iris, Caitlin e Barry não sendo eles mesmos foi muito engraçada, principalmente quando o Meta-Barry beijou Caitlin. Além disso, ter dado um destaque maior para Iris, que não estava sendo tão chata neste episódio, foi bacana ver Eddie como ajudante de verdade do Flash. Hannibal Bates (que referência incrível, não?) foi muito bem executado e a cena final onde aparece sem rosto, pois não se lembrava de quem era, foi no mínimo incrível.
Enquanto isso, em Starling City, Cisco e Joe investigavam o acidente que matou a noiva de Wells com a ajuda do Capitão Lance e aparições ótimas da Laurel. A relação dela com o Cisco foi sensacional e importantíssima para o desenvolvimento da Canário Negro em Arrow. Como não rir da foto fanboy do Cisco e ficar empolgado com o futuro Grito da Canário que veremos na série do Arqueiro Verde? Já Joe, descobrindo o verdadeiro corpo de Wells, pode provar assim que o Harrison que os vem ajudando desde sempre não é quem diz ser, e sim o Flash Reverso.
A cena final do episódio com a descoberta do esconderijo do Reverso chegou a dar arrepios, e já deixou o gancho para o próximo. Espero que vejamos mais das "lembranças" da morte do Cisco e que Harrison finalmente se revele como o maior inimigo de Barry.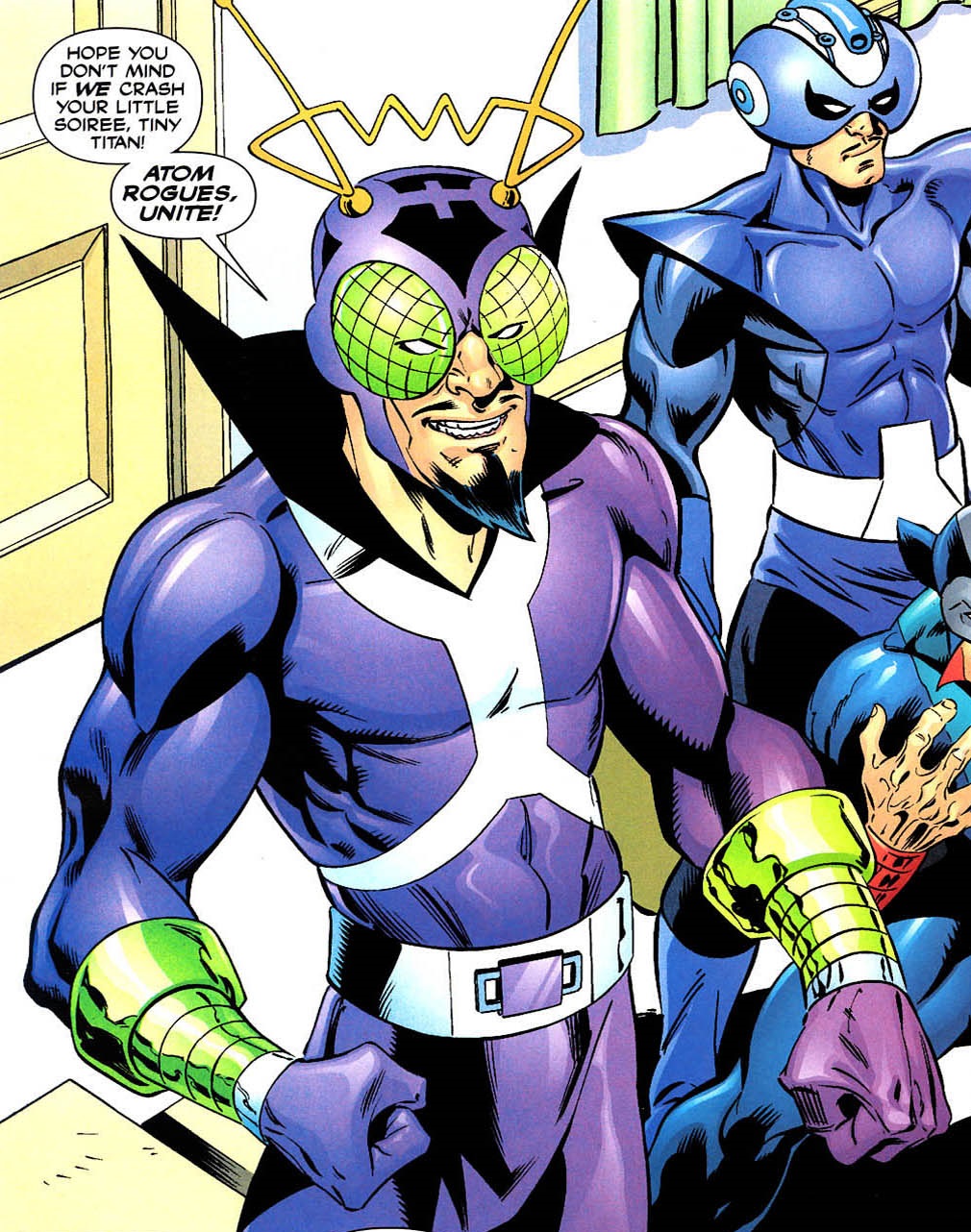 Nome Civil: Bertram Larvan
Nome de Vilão: Bug-Eyed Bandit
Poderes: Nenhum. Especialista em robótica, criava versões mecânicas de insetos
Nome Civil: Hannibal Bates
Nome de Vilão: Homem Comum
Poderes: Transforma-se em qualquer pessoa
Origem dos Poderes: Experiências genéticas da LexCorp